Star Wars Kenobi Jedi TUNIC Costume Custom-made Halloween Carnival
Regular price
£61.27
£0.00
Star Wars Kenobi Jedi TUNIC Costume Custom-made Halloween Carnival
   (Size Customization service is not provided for this costume)
Movie: Resident Evil Village

Character:  Kenobi

Package included:

 

detachable collar

 + Outer Tunic +Tabard + Belt (simple version) + Pant + Robe+ Cloak
Fabric: Linen Cotton Polyester (Robe)
Details:

 

This suit is for a screen accurate star wars jedi kenobi tunic costume, high quality, not cheap mass product. The Pouches and capsule on the belt are not included.
Processing time : 7-20days.

 

( All the male size are in stock reday to be shipped in 24 hours! )
Standard Shipping: 10-15 days.
Fast Shipping: 3-5 days.
Attention: For Quick Use, make sure you will choose fast shipping!
Collection: Star Wars

QUESTIONS & ANSWERS
Have a Question?
Be the first to ask a question about this.
Ask a Question
---
Share this Product
---
More from this collection
Customer Reviews
12/03/2021
Steve i.

China
Exactement ce dont j'avais besoin !
I can't write a simple review or letter so bear with me while I type. Overall I'm quite happy. Keep in mind this is a somewhat complex costume with several parts. Each of our bodies is fabulously different and unique, so not every piece of this costume will fit each person (or even me!) perfectly. But I think it REALLY looks great. I'm pleased. Recommend.
11/26/2021
Melwood

China
Impressed by quality & attention to detail
The tunic and trousers are very good thickish linen style material was happily supprised to see the trousers actually look like dress trousers with zip, button and elastic waist. The robe is polyester feel but not like the cheap stuff you get on costumes normally, it's also quite long, touching the floor. The tunic comes with 2 padded sashes and a waistband, they are separate to the main tunic. There's a faux leather utility belt with metal accents. We bought a adult Small for my 12 year old, he's appx 5ft 5in and slim build. Overall very impressed with quality and look of this costume and have a very happy Jedi!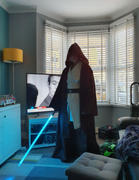 08/11/2021
Christina M.

United States
The quality on this product was shockingly great! Nice
The quality on this product was shockingly great! Nice, thick fabric for the tunic and the pants were a great color. They look like nice slacks, but once you cover the front and add boots, they are great. People complaining about not knowing how to put it on are a little silly. 1 belt and 2 shoulder sashes. Just look at a picture. It's fabulous that they are separate pieces because it looks legit! The price shows a little bit with the outer robe being pretty thin, and not as high of quality. But that was ok, considering how thick and textured the tunic was. It would have been WAY too warm with a thicker outer robe. Also, this is VERY white, (more like older Obi Wan), so we ended up dying the white fabric to be more of a cream color, and he looked fantastic.
07/07/2021
Christopher C.
WORTH IT
It's such an amazing costume for the price! It honestly is made out of pretty acceptable materials and doesn't feel "costume" quality! The orders are true to size and I'm shocked that even the pants fit very well. I'm a pretty big man in height and weight so for any fellow big boys out there this is perfect. My only complaint is that the tunic strips are hard to keep in place sometimes but other than that I would recommend this for any cosplayer wanting to do a pretty authentic looking cosplay that won't break the bank!
Great quality for the price
I expected it to be great & it was. It's a very professional costume & you won't be disappointed. The pieces are more like clothing than costume. Since you wrap the 2 shirts and scarfs around you without any buttons they could fit a wide variety of sizes w/o looking sloppy. you just overlap them so they fit nice. (like a robe) They probably would have stayed in place but I used some safety pins to be sure. you can't really see the boots so I just used a pair I had. only accessories I purchased were a light saber & belt clip. The light saber was a snug fit in the phone clip but since I wasn't planning on playing w/ it that was fine. The leather-ish belt that comes w/ the costume held it w/o issue.