Rocketman Elton John Dodgers Baseball Uniform Cosplay Costume Halloween Carnival Suit
COVID-19 TAILORING DELAY
Dear customers, due to the impact of Covid-19, the current shipping time will be longer than usual. Fast shipping packages take about 7-10 days to arrive, and normal shipping packages take about 12-18 days to arrive. As a result, the processing time for some garments has been extended to one month. In this case, we recommend purchasing stock clothing-READY TO SHIP (shipped within 48 hours of placing the order). If you need our products for urgent use, please feel free to contact us to check the time.
customers are viewing this product
Rocketman Elton John Dodgers Baseball Uniform Cosplay Costume Halloween Carnival Suit
Movie: Rocketman 
Character: Dodgers 
Including: Jumpsuit + belt + cap
Fabric: Lace, lining cloth
Details: Rocketman is the best music movie that shows us the

genius of Elton John. Find your own Rocketman Elton John Dodgers Baseball Uniform Cosplay Costumes for Halloween music Comic-con Costume 

Carnival.
 

Processing time: 7-15 days.(

XS,S,M,L,XL,XXL,XXXL are ready to be shipped in 48 hours )
Standard Shipping: 10-15 days.
Fast Shipping: 3-5 days.
Attention: For Quick Use, Make sure you will choose fast shipping!
Hi there, is there anyway you could do next day delivery for Friday 6th?

Hi,  you choose the fast shipping can arrive on time.

What is last date I can order in time for Halloween

Hi,
I suggest you to order before the 15th October, it's better to order as soon as possible.
Customer Reviews
05/05/2022
Grant D.

United Kingdom
Elton Rocked
Yeah the outfit was really good the only thing was the hat could have had the LA Dodgers on it in sequins which I had to do my self and they kept falling off, and also no glasses which again I had to find Overall very pleased everyone commented
02/08/2022
Natalie

United States
Pretty great
Great outfit, very shine! I am a regular customer of this store and really like their clothes and quality. Very affordable!
01/13/2022
SydneIRA

United States
Good Quality/Plus Size Friendly
This was really good value for the cost. Quick Pros and Cons: Pros: Fit pretty well (although the legs were a tad too long. All the letters and numbers were accounted for. Came with the hat and belt! Pretty Plus size friendly. I wear a 16/18, I am 5'5" with a 48" bust, so I was VERY nervous ordering, but I ordered an XXXL and it fit like a charm! Great shipping time (I got it through prime) Was pretty sturdy for a costume. Cons: SEQUINS EVERYWHERE! they stick to each other, get ripped off, get caught on fabric, etcc.. you will have lost a good amount in this costume. The letters peeled off quite a bit, but nothing a hot glue gun couldn't fix. The sequins are pretty itchy around the neck, so I suggest maybe putting a piece of fabric there, or wearing a shirt underneath. The costume is a but see through, make sure you wear white or **** undergarments. The hat is very plain, but I added some pizzazz to it with canvas, paint, and some rhinestones! Overall, this costume is worth it! I hope this helps!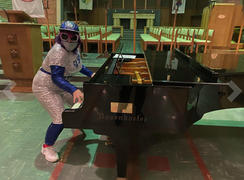 01/07/2022
Gwen

China
Won first prize in a disco costume contest
This costume won my husband first prize in a disco costume contest!!! (He has a naturally hairy chest so perfect for his costume). He wore it with a large gold (plastic) DISCO medallion necklace, it sort of needs that to look finished.